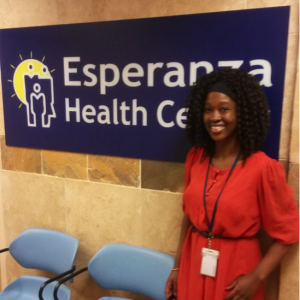 Name: Hydiya Abubakar
Year: 2017
Major: Biology
What's happening? We'd love to hear how your internship is going!
My internship is at Esperanza Health Center. I have been working in the administrative office which has a lot of the behind the scenes work that helps make the health center function smoothly. I have worked on some projects such as updating patients insurances on Esperanza's new software system that is less than a year old and checking/updating records to make sure that patients 18 or younger have had their most recent well child checks (physical exams) yearly (if not, then alerts would be sent out to remind them). The internship is going very well. The staff are very welcoming and I am learning so much about how much detail and persistence goes into handling medical information.
How I heard about my internship:
I heard about this internship through Intervarsity Christian Fellowship on campus. IVCF was running a program where students could explore how faith can be applied when working in one's vocation and how faith can be applied in working to try to reduce injustices in the communities that one may work with. Esperanza Health Center was one of the places offered to me.
Why I applied for my internship:
I applied for this internship because I am interested in the health field and Esperanza takes a holistic approach that really tries to help cater to patients' needs and health. For example, Esperanza offers prayer if patients feel that they need spiritual uplifting, majority of the staff are required to be bilingual (Spanish and English), and Esperanza offers behavioral counseling, nutrition classes, and fitness classes all conveniently located at the health center. I was very excited to have an opportunity to learn and work in this environment.