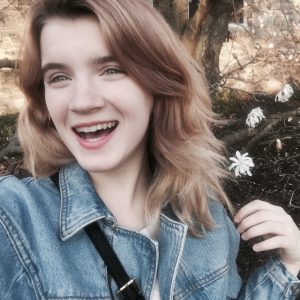 Name: Maeve White
Year: 2018
Major: Anthropology and Film and Media Studies
What's happening? We'd love to hear how your internship is going.
Today (July 29th) was my last day working at the Philadelphia Museum of Art with Professor Monique Scott, head of the Bryn Mawr museum studies program. I was doing audience research in the "Creative Africa" show, specifically focusing in the "Look Again" exhibit, which is comprised of historical objects from the Penn Museum of Archaeology and Anthropology. I tracked visitors in the gallery, following them around to see what they visited and how they engaged with the exhibit. I also conducted interviews with audience members.
Working with Professor Scott and the museum staff was a really interesting and unique experience. I was simultaneously working on two research projects: one about the effectiveness of the new style of labels being used in the exhibition, and the other about the representation of Africa in museums. Alongside traditional object labels, the exhibit has large wall panels with questions that prompt visitors to look closer at the art and see what can be gleaned from close looking. I loved working with both the Penn and the PMA and getting to hang out in such an amazing setting all the time. It's also been really interesting to hear and see how visitors use the space in such an unusual and exciting exhibit. I've learned a lot about audience research and the museum world, and my summer has been full of fun and art.
I've been working with another Bryn Mawr anthropology student, Dani Roomes, and they've been a wonderful partner and friend. I've become more familiar with Philly and I know I've formed great working relationships with museum staff in many departments. The independence they've allowed our research project has been phenomenal, and it's really helped me see the many joys of academic work as well as museum work.