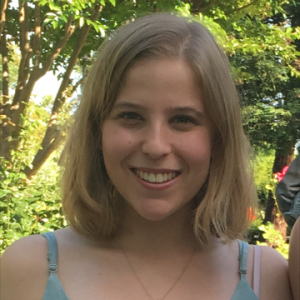 Name: Dana Gold
Year: 2018
Major: Spanish
What's happening? We'd love to hear how your internship is going!
My internship is going great! I'm working at Nationalities Service Center (NSC) in Center City, which is an organization that works with refugees in the area. I'm the ESL Intern, which means I help out in the English class every morning as well as do various longer term projects in the afternoons. Right now, I'm working on an attendance project and devising a better system for the teachers now and going forward to use. I also assist with escorting clients to medical appointments and other social services appointments.
Here is a picture of me on World Refugee Day. We took the ESL class to Philadelphia City Hall for Mayor Kenney's press conference in honor of the day. It was so exciting for us at NSC as well as the clients!