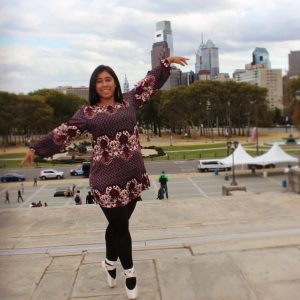 Name: Devica Bhutani
Year: 2018
Major: Biochemistry and Molecular Biology
What's happening? We'd love to hear how your internship is going.
This summer, I am one of 54 interns of the City of Philadelphia's Mayor's Internship Program. This program allows interns to explore government in a few ways. All interns work for at least 20 hours with a city department, which we were placed in after a few interviews as well as our interests and applications. I am working in the Strategic Planning division of the Department of Behavioral Health and Disability Services (DBHIDS). In the department, I do a lot of Excel work, and have been researching articles about opioid use and mental health in Philadelphia.
On Fridays, all the interns meet (sometimes inside City Hall, sometimes in the Municipal Building, sometimes at specific sites, like Philadelphia International Airport), and we hear from people who work in the City of Philadelphia. This coming Friday, we will be hearing two panels, with speakers including the Deputy Managing Director for Community Services, and the Chief Cultural Officer.
Additionally, the interns are split into groups to work on one of six projects. My specific project is to work with the Office of Immigrant Affairs to help with the first ever Unity Cup. The Unity Cup is a World-Cup like soccer tournament with different communities of Philadelphia competing and representing that country. Although I have only been interning for two weeks, this internship is really great, and I am so thankful for the opportunity.
How I heard about my internship:
LanternLink and Google!
Why I applied:
I am a current pre-med student, so I get a lot of questions asking why I am working "in the government." We live in a very political world, especially now with medical insurance and there is a ton of politics in medical settings-especially hospitals. I think that it is important to be in the know of politics, which is why I applied to this program. I am also interested in seeing what the world of public health is about, so again, I am really thankful for this opportunity!
Fun fact: At DBHIDS, one of my colleagues was a former Sociology professor at Bryn Mawr!