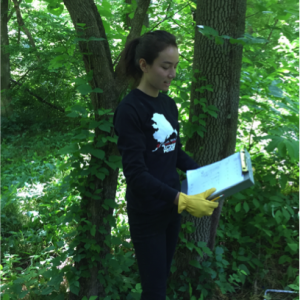 Name: Emma Lasky
Year: 2018
Major: Biology, Minor: Environmental Studies
Internship Placement: USDA Forest Service
What's happening? We'd love to hear how your internship is going!
This summer I am working with the USDA Forest Service all over the Philadelphia Area. I am aiding a field researcher who is studying the effects of an invasive pest known as the emerald ash borer and its effects on forest health. Understanding the consequences of these pests helps the city of Philadelphia plan effective methods to remove the pests and identify potential dead trees that could be hazardous to the public. For the past week I have been battling my way through the dense rose bushes that inhabit Wissahickon Park, but other weeks have consisted of ducking under fallen logs in Fairmount Park and tip-toeing through stinging nettle in Pennypack Park – this is definitely not easy work! My advisor and I spend several hours each day in a plot with a circumference 25.24 meters, calculating tree girth, identifying herbaceous plants, estimating foliage density and many collecting other numbers. My two favorite parts of my internship is the daily challenge of identifying plants and how we go to a different location every day.
Here is a photo of me in the first week of my internship attempting to identify plants in a 2×2 meter space out in Pennypack Park. As you can see behind me, there is a lot of foliage that needs to be categorized. We use paper and pencil to record information, which is an effective way of collecting data until it starts to rain!
How I heard about my internship:
I began my internship search in the summer of 2015 and was expecting to work in a research lab on the West Coast, however I was unsure of where and how I wanted to spend my summer so I kept looking. This led me to searching around on Bryn Mawr's website, which is when I found out about a spring break STEM intensive session. The session consisted of environmental science and public health topics – a lot of professionals in those two fields came in to speak to the students who signed up for the session. During this session there was a networking lunch that I took advantage of and made several contacts. After the lunch I followed up with the contacts, made some straightforward calls and found myself with more summer options to choose from that were conveniently located in the Philadelphia Area. Everyone should participate in the spring and fall break intensives – the worst case scenario is that you get free food and some professional contacts!