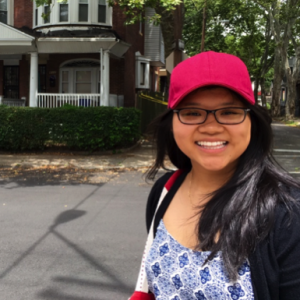 Name: Jessica Nguyen
Year: 2017
Major: Biology
What's happening? We'd love to hear how your internship is going!
This summer, I am interning with Maternity Care Coalition's North Philadelphia Breastfeeding and Community Doula Program. MCC is a non-profit organization that works towards bettering maternal and child health. There are three programs at the office I am involved in, each one offering home visits and educational support for families. For example, the breastfeeding and community doula program connects expecting mothers to doulas at no charge to the families. This program offers families who are unable to afford a doula the access to one. During the first month of my internship, I have been involved in various tasks. For instance, I assisted clients in obtaining emergency supplies such as, diapers, baby formula, and clothes, helped edit the manual for the breastfeeding peer counselor training, actively participated in meetings and support groups, and have shadowed and learned from the doulas during home visits. I also have the responsibility of conducting follow-up phone calls, in which I speak with the mothers who have utilized doulas through the organization, to better the next doula training using their feedback.
How I heard about my internship:
I actually heard about this internship opportunity through a 2014 Bryn Mawr alumni. After listening to my interests in midwifery and obstetrics and gynecology, a mutual friend of ours referred and encouraged me to pursue an internship with MCC.
Why I applied for my internship:
I like the idea of providers coming to their clients more than clients coming to their providers. I believe this makes it more personal and interactive to our clients than other traditional means. This idea is exactly what the advocates, the doulas, and the breastfeeding counselors do and I believe it is a very supportive and connective system. This is a community in which I wanted to be a part of and to learn from, which is why I quickly applied when I had the opportunity. I wanted the exposure to meaningful work in a more intimate, one to one setting. I am grateful for the opportunity to observe doulas in helping clients within the comfort of their own homes.