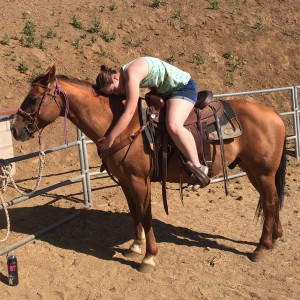 Name: Kelsey Rall
Year: 2017
Major: English
What's happening? We'd love to hear how your internship is going!
This summer I'm working as a ranch hand on a horse rescue ranch in California. My day starts at 6:30am when I feed, clean, and water all of the horses, mules, goats, and burros living on the ranch. After that, I have a training session with Michael, the owner and manager of the ranch; typically we work with horses who were abused or neglected and therefore fear humans and have little experience being ridden. My job is to get the animals used to human contact and to get them comfortable performing basic tasks people want from their horses (riding, backing up, following a lead rope) before they get re-homed. I'm also in charge of setting up and running a horse camp for underprivileged kids to attend this July. It's a lot of hard work, and I'm generally covered in dirt by the end of the day, but I couldn't be happier!
How I heard about my internship:
I was looking for jobs as a ranch hand when I came across a listing for this internship. I checked out the ranch's website and began an email correspondence with my current boss, Michael.
Why I applied for my internship:
I've already had a lot of experience working with animals, but I've always been interested in learning more about horses. Also, I really wanted to try living in a completely new place for a summer, and the high desert in California seemed as good a place as any!