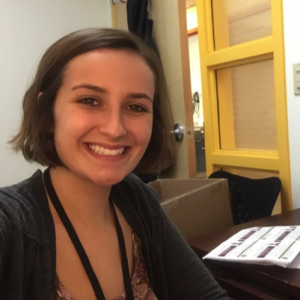 Name: Maeve Malloy
Year: 2017
Major: Psychology, Minor: Health Studies
What's happening? We'd love to hear how your internship is going.
Earlier this year I was applying for internships that had rigorous application processes, and after deciding those experiences weren't right for me, I followed up about an internship posting at the Health Annex in Southeastern Philadelphia. After a 5-minute phone-interview, my current supervisor and BMC alum gave me an amazing opportunity.
I have loved my experience at the Health Annex so far. I am learning so much about primary care and patient education and advocacy through its nutrition and prenatal care departments. I get to interact with patients in various settings such as nutrition classes, prenatal assessments, and therapy groups. When I am not shadowing providers from various fields, I am working hard in my own office (WOW!) completing administrative tasks and developing patient education tools. Sometimes my job takes me out of the office, such as when we did Staff Yoga on the roof, or at the End AIDS Outreach and Prevention Summit in Center City Philadelphia. Whatever I end up doing, every day at the Health Annex offers something new to learn, or a new skill to practice.
Some words of advice to those looking for an internship or those who have one right now, connect with the Bryn Mawr alums in your organization's network. Nine times out of ten you can find a few, and they are always happy to share some of their experiences with you, or to connect you with someone else who could do the same. And don't forget to gush with them about class colors, traditions, and the other perks of being a Mawtyr, you'll both enjoy it.