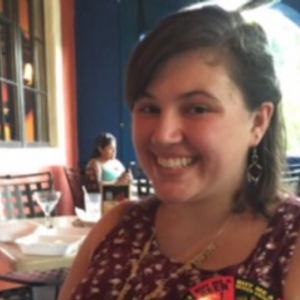 Name: Marion Silas
Year: 2016
Major: Growth and Structure of Cities, Minor: Italian
What's happening? We'd love to hear how your internship is going!
This summer I have a 9-week internship with the Department of State, working in Public Affairs at the U.S. Consulate General in Milan, Italy. Since Public Affairs is responsible for all types of media, events, and public outreach, my responsibilities change on a daily basis – which makes it really exciting! Since June was LGBTQ+ Pride Month, I spent a lot of time working with LGBTQ+ issues: helping to coordinate and photograph Milan's Orlando vigil outside of the Consulate, compiling stories and photos from services throughout Northern Italy to send in a write-up to Washington, DC, talking with local high school students about progress in the U.S. vs. Italy, representing the Consulate at Milan Pride Week events, and organizing record Consulate participation in Milan's Pride Parade. This month, I'll be taking the lead in coordinating the visit of an American expert who is coming to speak with police departments in Northern Italy about combatting violent extremism in prisons.
On a day-to-day basis, I also monitor U.S. media for stories relevant to Northern Italy, create videos and social media content, and coordinate, operate and/or promote Consulate-sponsored events and speakers. So far these have ranged from a reception for the International Council of Museums to an Iftar hosted by the Consul General for leaders in the local Muslim community, to discussions with the U.S. Green Building Council on clean energy.
In addition to just being a lot of fun and introducing me to fascinating people and organizations, this internship has enabled me to work on behalf of the U.S. on causes that I care deeply about and which benefit not only Americans abroad but Italian individuals and the country as a whole. As I continue to discover the myriad ways in which U.S. diplomacy touches people throughout the world, I hope this journey won't have to end – in fact, I now plan to take the Foreign Service Officer Test next February!
Why I applied for my internship:
I am interested in human rights and international relations and had considered if government work would allow me to have a positive impact in some way. The Department of State's connections with the Seven Sisters and women's college alumnae encouraged me to research potential careers with them. This internship was the perfect opportunity for me to learn about how the Dept. of State functions and what U.S. diplomacy truly means – and to enhance my Italian language skills!
How I heard about my internship:
I was researching careers with the Dept. of State and the Foreign Service and realized that they had domestic and international internship opportunities available for students.