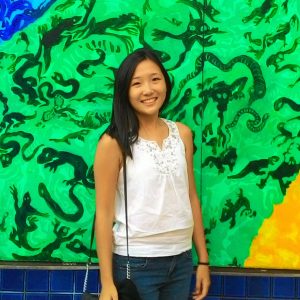 Name: May Ninghe Cai
Year: 2017
Major: Biology
What's happening? We'd love to hear how your internship is going.
This summer I am interning in the Pediatric Endocrinology department at Children's Hospital Colorado in Aurora, CO. I am working with Dr. Green, who is a Bryn Mawr alumna. I got connected with Dr. Green through LILAC's externship program, and it is amazing to see my one-week-externship blossom into this wonderful off-campus opportunity. Dr. Green's research interest is on adolescents with diabetes and Polycystic Ovarian Syndrome (PCOS). As a result, I had the opportunity to shadow the multidisciplinary PCOS clinic, where patients are educated on the basics of PCOS and then consulted by physicians from different departments (such as endocrinology, psychology, dermatology). In addition, I also gained lots of clinical exposure observing clinical research study visits. My current project is exploring the relationship between mitochondrial function and insulin resistance in youth without diabetes, and evaluating different surrogate indices used for assessing insulin sensitivity in girls with PCOS.
Since my internship is located in University of Colorado Anschutz Medical Campus, there are tons of talks and conferences going on every week. I am able to utilize this resource and getting to hear some of the cutting-edge researches in other fields as well.
I rented an apartment in downtown Denver with another summer intern. We are blessed with Denver's amazing public transport system, sunny and only sometimes unbearable warm weather, and lots of good hikes nearby. There are activities and festivals almost every week Denver. Every weekend, I would go out with other summer interns in the office to explore the city and enjoy the outdoors. So far, I have hiked up the Flat Irons in Boulder and the famous Red Rocks Amphitheatre trail. My next stop is the Pikes Peak in Colorado Springs!