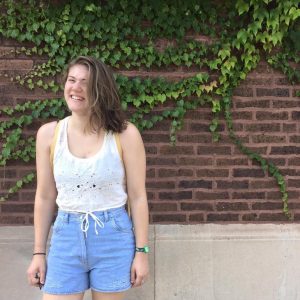 Name: Sarah Green
Year: 2018 at Haverford
Major: Sociology
Internship Placement: City of Philadelphia Mural Arts Program Summer.
What's happening? We'd love to hear how your internship is going.
This summer I am interning with the City of Philadelphia Mural Arts Program, which is a Philadelphia­ based public art nonprofit organization working to create lasting social change through socially conscious artistic practice. My job mainly involves assistance with summer events, such as a symposium hosted by Moore College of Art & Design and Mural Arts called In/Out: Ethics, Attention, and Intention in Socially Engaged Art, and research for the planning phase of a public art festival slated for the Fall of 2017. I applied for this internship because, as a Sociology major and as an artist myself, I am fascinated by the intersection of sociology and art. I believe that art can be a powerful tool of social change. I hope to pursue a career in artistic social practice after graduating, focusing on its sociological applications and its role as a force of positive social transformation. This internship has really helped me navigate my interests in a productive way, and I have gained valuable insight into what my ideal career may be.