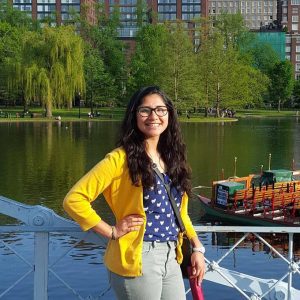 Name: Selena Martinez
Year: 2018
Major: Comparative Literature
What's happening? We'd love to hear how your internship is going.
This summer I am interning in the Visitor Education Department at the New England Aquarium in Boston, Massachusetts. As a Visitor Educator I have the unique opportunity of connecting visitors with marine life through interpretation. Interpretation allows me the chance to breakdown information about a specific type of animal, habitat, ecosystem or conservation issue and translate that information to the visitor through something more relatable. This connection plays an important role in emphasizing the impact the visitors can make through conservation. I also assist visitors with interacting with a variety of marine animals. So far I have been able to gain hands on experience with sharks, shark eggs, sting rays, sea stars, jellies, hermit crabs, octopi, horseshoe crabs, scallops, oysters, flounders, red bellied turtles, and so many more marine animals. Working with these animals further strengthens my passion for protecting them and always excites me to spread more information about them to our visitors.
Why I applied to my internship?:
As a comparative literature major I frequently analyze communication between cultures especially during moments of translation. Translation is not only limited to translating language. It also focuses on translating any idea in the most effective manner between parties. In this sense the Visitor Education Internship allowed me the chance to practice my translation skills over a topic I am extremely passionate about, conservation and the protection of marine animals. The New England Aquarium also provided the type of informal educational environment I was interested in. Educating others in a gallery setting with the live animals around me was the kind of classroom I wanted to work in. Furthermore this internship provided me a chance to better understand how a nonprofit organization functioned.