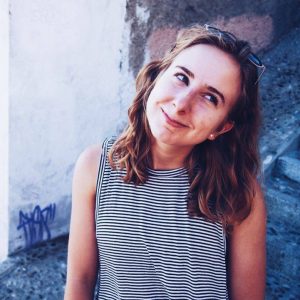 Name: Sydney Maves
Year: 2017
Major: Growth and Structure of Cities, Minor: Environmental Studies
Internship: Mayor's Intern in the Philadelphia City Planning Commission (MIP Program)
What's happening? We'd love to hear how your internship is going!
So far, this summer has been great. Because the internship is in downtown Philadelphia, I decided to sublet a place in University City. I couldn't have asked for a better location. Instead of taking the subway every morning, I decided to try out Philadelphia's new biike share program – Indego. There's a station right outside my apartment and right next to my office building. Through this internship, I've been learning about how Philadelphia's residents are able to get involved and voice their opinions in the planning process. I've also been able to work a fair amount with Geographic Information Systems (GIS) in order to visually represent recommendations that Philadelphia City Planning Commission has determined to be high, medium, and low priorities to change or implement. I've also been learning about Philadelphia's zoning code which went through major changes recently after not being modified for over 40 years.
As a part of Philadelphia's Mayor's Internship Program, on Fridays all of the Mayor's interns come together for panel discussions with individuals in all different departments and levels of city government. We've also gone on a number of fieldtrips, including one to the Navy Yard. As someone who is interested in urban planning it was very interesting to see how the Navy Yard is being redeveloped after years of very little use.
How I heard about my internship:
I interned at the Salt Lake City Mayor's Office last summer, so this year, I wondered if Philadelphia offered a similar program. I applied through the Mayor's Internship Program (MIP) and was then interviewed to learn about my interests. Then, I was interviewed again with specific departments including the Philadelphia City Planning Commission (PCPC).
Why I applied for my internship:
This summer, I wanted to learn how a city determines what changes need to be made to the urban form in order to improve living standards. I also was interested in being part of the Mayor's Internship Program so that I would better understand how departments in government work together. With PCPC, I've been able to attend meetings in order to learn about all aspects of the planning process from learning how maps are made, to talking to community members, to learning about the necessary interactions between stakeholders.